You are currently browsing the category archive for the 'light' category.
with thanks to Beth for the original posting…
Via dreaminginthedeepsouth.tumblr.com
By the Church on Sunday Morning Nobuyuki Taguchi
"It is perhaps the misfortune of my life that I am interested in far too much but not decisively in any one thing; all my interests are not subordinated in one but stand on an equal footing."
— Søren Kierkegaard
*
"Most days I don't know
what I want.
I want to escape,
I want to stay behind.
I want to leave without a goodbye
and disappear into the anonymity
of a new life,
I want to keep all the people I have loved
locked inside my heart forever.
Maybe it would be best to allow
the world to swallow me whole
and spit me out somewhere new.
I've spent a lifetime growing roots
into a place born of misery
and swallowing sunshine in
an effort to keep myself from
choking on the sadness that
smothered every single light that
threatened to expose this place.
I want everything.
I want to be a mystery to you,
untouchable,
a star all to myself
a galaxy away from your starved fingers,
I want you to cover my bones
with your body and kiss my secrets out of my skin,
I want to love and be loved,
I want to detach myself from
the danger of it all,
keep myself safe from breaking.
I want to be no one at all,
tossed into the wind with the
precious gift of knowing that
new beginnings are underway.
I want to be everywhere at once,
breathing new air,
shedding my skin with every new city.
I want to be someone,
I want my name to be held in someone's
mouth with all the tenderness that
adoration brings.
I want to matter in the volatile way that
leaves fingerprints permanently etched into souls.
I am an island unknown to myself,
I am the brick house I've lived in
since I was a little girl.
I am simultaneously falling apart
and falling together.
I am a daughter of fire,
a descendant of the sea,
my entire being at war with
desire and reality.
I want it all to stop spinning."
*
"For a long time, memory researchers assumed that memories were like volumes stored in a library. When your brain remembered something, it was simply searching through the stacks and then reading aloud from whatever passage it discovered. But some scientists now believe that memories effectively get rewritten every time they're activated, thanks to a process called reconsolidation. To create a synaptic connection between two neurons the associative link that is at the heart of all neuronal learning you need protein synthesis. Studies on rats suggest that if you block protein synthesis during the execution of learned behavior pushing a lever to get food, for instance the learned behavior disappears. It appears that instead of simply recalling a memory that had been forged days or months ago, the brain is forging it all over again, in a new associative context. In a sense, when we remember something, we create a new memory, one that is shaped by the changes that have happened to our brain since the memory last occurred to us."

— Slate Magazine, "The Science of Eternal Sunshine by Steven, March 22, 2004
*
"In the waters of purity, I melted like salt
Neither blasphemy, nor faith, nor conviction, nor doubt remained.
In the center of my heart a star has appeared
And all the seven heavens have become lost in it."
— Rumi
*
Wisdom from Vincent Harding, historian, activist, author, preacher, who passed away this week at 82.
"We are not alone in this struggle for the re-creation of our own lives and the life of our community. It has long been written and known that those who choose to struggle for the life of the earth and its beings are part of an ageless, pulsating membrane of light that is filled with the lives, hopes, and beatific visions of all who have fought on, held on, loved well, and gone on before us. For this task is too magnificent to be carried by us alone, in our house, in our meeting, in our organization, in our generation, in our lifetime… we are all a part of one another, and we are all part of the intention of the great creator spirit to continue being light and life.
[ We are to seek out ] … a path that expresses our own searching – expanding the confidence in the healing power of the universe, in the presence of a loving, leading Power, exposing us always to the harsh and the tender, to the dreadful and the compassionate, prying our lives open to the evidence of things unseen."
Amen.
*
"This is what Wisdom means: To be changed without the slightest effort on your part, to be transformed, believe it or not, merely by waking to the reality that is not words, that lies beyond the reach of words. If you are fortunate enough to be Awakened thus, you will know why the finest language is the one that is not spoken, the finest action is the one that is not done and the finest change is the one that is not willed."
*
Let Your Enemy Be Your Teacher
Monday, May 12, 2014

Make friends with your opponent quickly while he is taking you to court; or he will hand you over to the judge, and the judge to the officer, and the officer will throw you into prison. You will not get out until you have paid the last penny. — Matthew 5:25-26
Persona and shadow are correlative terms. Your shadow is what you refuse to see about yourself, and what you do not want others to see. The more you have cultivated and protected a chosen persona, the more shadow work you will need to do. Conversely, the more you live out of your shadow self, the less capable you are of recognizing the persona you are trying to protect and project. It is like a double blindness keeping you from seeing—and being—your best and deepest self. As Jesus put it, "If the lamp within you is, in fact, darkness, what darkness there will be" (Matthew 6:23). It is all about seeing—and seeing fully and truthfully. It takes a lifetime.
Your persona is what most people want from you and reward you for, and what you choose to identify with, for some reason. As you do your inner work, you will begin to know that your self-image is nothing more than just that, and not worth protecting, promoting, or denying. As Jesus says in the passage above, if you can begin to "make friends" with those who have a challenging message for you (your "enemies"), you will usually begin to see some of your own shadow. If you don't, you will miss out on much-needed wisdom and end up "imprisoned" within yourself or taken to "court" by others; and you will undoubtedly have to "pay the last penny" to reorder your life and your relationships. In the spiritual life, your enemies are really your friends, and that is not just doubletalk. It is very often true.
Richard Rohr: Adapted from Falling Upward: A Spirituality for the Two Halves of Life,pp. 127-129
*
A simple science
Last night I spoke with a young Chinese woman clearly troubled about confronting deeply negative circumstances in her life; and one of my best friends is struggling with disease and heartbreak.
In their own way, each of them brings their whole Being, everything they are, into this personal moment of struggle and suffering, wondering why things have to be this way, and whether there isn't a force, a material inner force, that can go against such things.
It prompted me to explain to my friend that people think metaphysics is about some cosmological pie-in-the-sky stuff; angels and cosmic evolution and so on. People write extraordinarily complicated texts about metaphysics, filled with magical diagrams and rays of cosmic energy, hydrogens and galaxies, and so on. It's fair to say quantum physics is probably simpler to understand.
But that's not what it's like at all. Metaphysics is about here and now; it is about the power of Being, which emerges from the divine inward flow and is manifested through intellect and will. So we have an ability to manifest something materially, something extraordinary and positive, which affirms our Being; yet outward circumstances so often arrange themselves as destructive forces, and they seem more powerful than we are.
All of the great stories of heroism, from the epic of Gilgamesh to the stories from the concentration camps, celebrate humanity's efforts to manifest the positive forces of being against these destructive outward circumstances. It is easy to swallow them as stories on a grand scale; but it is much more difficult to digest them when they are served cold and dirty on the hard plate of one's personal life. That is when we really have to tighten our belts, pick up the fork, and eat what is true about our life and ourselves; and this is a dish we come to most reluctantly. It takes a greater kind of courage than the courage we read about in the heroic epics to confront our own lives; and although we can take inspiration from the great stories, it is every inward and outward breath of our own life that we have to deal with. This can be an anguishing labor. No one feels as grand as Hercules cleaning out the stables when one is dealing with the mental illness of a loved one or cancer.
This is where real metaphysics comes in. Physics is the study of objects, events, circumstances, and conditions; material things, things as they are. Metaphysics is the study of Being; of what we are as individuals, of how our consciousness encounters the material. So it's an incredibly practical discipline; and everything about it is about beginning to understand that the external forces and events we confront are not who we are; in a certain sense, they don't even exist. All they are is data; and data has no organized form or objective sense of what it is. It isn't intelligent.
In the same sense that atomistic materialism tells us there is nothing more than these little bits of stuff that make up bigger stuff, all that data can ever say is that it is there. But our Being, our awareness — that is what allows us to inwardly form a relationship to the outer, and it is in that place, within us, that the outer events acquire form, which we can have an attitude towards.
This means, oddly, that the realm of heroism doesn't lie in outward action; it is within us, where we form our attitude towards things, that the hero is born, not in the deeds that he or she does to save the world. Every human being who gets up in the morning and forms a positive attitude to overcome their obstacles and live in the face of the destructive forces around them is a hero. And they will always be a hero, whether they succeed or fail, because the hero is already there in the attitude, regardless of whether they live or die in the context of all the forces that would drag us down.
The hero starts here, and starts now, by saying, yes – I can Be. I can have a wish for the good.
We have a choice in our lives. We can practice this simple science of metaphysics in simple ways, by understanding how we form the outer world through our inner attitude; and we can begin in every moment by trying to make an effort for the good, rather than letting everything go down.
from Queen Mab
by Percy Bysshe Shelley

How wonderful is Death,
Death, and his brother Sleep!
One, pale as yonder waning moon
With lips of lurid blue;
The other, rosy as the morn
When throned on ocean's wave
It blushes o'er the world;
Yet both so passing wonderful!
When Death Comes
by Mary Oliver
When death comes
like the hungry bear in autumn;
when death comes and takes all the bright coins from his purse
to buy me, and snaps the purse shut;
when death comes
like the measle-pox;
when death comes
like an iceberg between the shoulder blades,
I want to step through the door full of curiosity, wondering:
what is it going to be like, that cottage of darkness?
And therefore I look upon everything
as a brotherhood and a sisterhood,
and I look upon time as no more than an idea,
and I consider eternity as another possibility,
and I think of each life as a flower, as common
as a field daisy, and as singular,
and each name a comfortable music in the mouth,
tending, as all music does, toward silence,
and each body a lion of courage, and something
precious to the earth.
When it's over, I want to say: all my life
I was a bride married to amazement.
I was the bridegroom, taking the world into my arms.
When it's over, I don't want to wonder
if I have made of my life something particular, and real.
I don't want to find myself sighing and frightened,
or full of argument.
I don't want to end up simply having visited the world.
On the Death of Anne Brontë
by Charlotte Brontë
There's little joy in life for me,
And little terror in the grave;
I've lived the parting hour to see
Of one I would have died to save.
Calmly to watch the failing breath,
Wishing each sigh might be the last;
Longing to see the shade of death
O'er those belovèd features cast.
The cloud, the stillness that must part
The darling of my life from me;
And then to thank God from my heart,
To thank Him well and fervently;
Although I knew that we had lost
The hope and glory of our life;
And now, benighted, tempest-tossed,
Must bear alone the weary strife.
And You As Well Must Die
by Edna St. Vincent Millay
And you as well must die, belovèd dust,
And all your beauty stand you in no stead;
This flawless, vital hand, this perfect head,
This body of flame and steel, before the gust
Of Death, or under his autumnal frost,
Shall be as any leaf, be no less dead
Than the first leaf that fell,this wonder fled,
Altered, estranged, disintegrated, lost.
Nor shall my love avail you in your hour.
In spite of all my love, you will arise
Upon that day and wander down the air
Obscurely as the unattended flower,
It mattering not how beautiful you were,
Or how belovèd above all else that dies.
Death
by Rainer Maria Rilke
Before us great Death stands
Our fate held close within his quiet hands.
When with proud joy we lift Life's red wine
To drink deep of the mystic shining cup
And ecstasy through all our being leaps—
Death bows his head and weeps.
Do Not Stand At My Grave and Weep
Do not stand at my grave and weep
I am not there.
I do not sleep.
I am a thousand winds that blow.
I am the diamond glints on the snow.
I am the sunlight on ripened grain.
I am the gentle autumn rain.
When you awaken in the morning's hush
I am the swift uplifting rush
Of quiet birds in circled flight.
I am the soft stars that shine at night.
Do not stand at my grave and cry;
I am not there. I did not die.
Lewis
I loved you.
You loved me.
With that my life.
Could not better be.
sharon
    I will bring a cup of water,
Here's the best that I can offer
In the dusk of coming night,
There is evidence of light,
With the pattering of rain,
Let us bow as if in grace
Consider all the ways we heal
And how a heart can break!
Oh,  abide with me
Where its breathless and its empty,
Yes, abide with me
And we'll pass the evening gently.
Stay awake with me,
And we'll listen more intently
To something wordless and remaining
Sure and ever-changing
In the quietness of now.
Let us ponder the unknown
What is hidden, what is whole,
And finally learn to travel,
At the speed of our own souls.
There is a living water,
A spirit cutting through,
Always changing, always making
All things new.
Oh, abide with me
Where its breathless and its empty
Yes, abide with me
And we'll pass the evening gently
Stay awake with me
And we'll listen more intently,
To something wordless and remaining,
Sure and ever changing,
in the quietness of now!
There are things I cannot prove,
But still somehow I know,
It's like a message in a bottle
That some unseen hand has thrown.
You don't have to be afraid,
You don't have to walk alone,
I don't know but I suspect
That it will feel like home!
Oh abide with me
Where its breathless and its empty
Yes, abide with me
And we'll pass the evening gently
Stay awake with me
And we'll listen more intently
To something wordless and remaining
Sure and ever-changing
In the quietness of now.
A Permeable Life is about what presses out from the heart, what comes in at a slant and what shimmers below the surface of things," Newcomer says. "To live permeably is to be open-hearted and audacious, to risk showing up as our truest self, and embracing a willingness to be astonished."
A Permeable Life
I want to leave enough room in my heart
For the unexpected,
For the mistake that becomes knowing,
For knowing that becomes wonder,
For wonder that makes everything porous,
Allowing in and out
All available light.
An impermeable life is full to the edges,
But only to the edges.
It is a limited thing.
Like the pause at the center of the breath,
Neither releasing or inviting,
With no hollow spaces
For longing and possibility.
I would rather live unlocked,
And more often than not astonished,
Which is possible
If I am willing to surrender
What I already think I know.
So I will stay open
And companionably friendly,
With all that presses out from the heart
And comes in at a slant
And shimmers just below
The surface of things.
Excerpt From: "A Permeable Life: Poems and Essays."
A Permeable Life, produced and engineered by Paul Mahern (John Mellencamp, Over the Rhine, Willie Nelson, Lily & Madeleine), will be in stores on April 1, 2014, from Available Light Records, distributed by MRI/Sony RED Music.
Newcomer is simultaneously releasing a companion book, A Permeable Life: Poems and Essays. Newcomer has attracted a devoted following with her warm voice, exquisite melodies, and an irreverent yet spiritual view of the world.   As in the work of poets Mary Oliver and Wendell Berry, Newcomer's songs are based in the ordinary, and infused with images from the natural world.
Author Barbara Kingsolver wrote, "She's a poet, storyteller, snake-charmer, good neighbor, friend and lover, minister of the wide-eyed gospel of hope and grace."
On April 1, 2014, Available Light Records, distributed by MRI/Sony RED Music, releases a new album of Newcomer's music entitled A Permeable Life.  On this album, Newcomer's signature deep voice takes on a quiet conversational tone, close and intimate.
Recording artist Carrie Newcomer's work cuts across secular and spiritual boundaries. She has had many artistic collaborations with notable authors such as Parker J. Palmer, Barbara Kingsolver, Jill Bolte Taylor, Philip Gulley, Scott Russell Sanders and Rabbi Sandy Sasso. She facilitates workshops on songwriting, creative writing, spirituality, vocation and activism. Newcomer, who tours throughout the U.S. and Europe, has also toured with Alison Krauss.
Christ with me, Christ before me, Christ behind me,
Christ in me, Christ beneath me, Christ above me,
Christ on my right, Christ on my left,
Christ when I lie down, Christ when I sit down,
Christ in me, Christ when I arise,
Christ in the heart of every man who thinks of me,
Christ in the mouth of every man who speaks of me,
Christ in the eye that sees me,
Christ in the ear that hears me,
Christ with me.
Nunc dimittis servum tuum Domine secundum verbum tuum in pace
quia viderunt oculi mei salutare tuum
quod parasti ante faciem omnium populorum
lumen ad revelationem gentium et gloriam plebis tuae Israhel
De profundis clamavi ad te Domine: Domine exaudi vocem meam. Fiant aures tuae intendentes in vocem deprecationis meae. Si iniquitates observaveris Domine: Domine quis sustinebit. Quia apud te propitiatio est: et propter legem tuam sustinui te Domine. Sustinuit anima mea in verbo ejus: speravit anima mea in Domino. A custodia matutina usque ad noctem, speret Israel in Domino. Quia apud Dominum misericordia: et copiosa apud eum redemptio. Et Ipse redimet Israel ex omnibus iniquitatibus ejus.
Out of the depths I have cried to thee, O Lord:  Lord, hear my voice. Let thy ears be attentive to the voice of my supplication.  If thou, O Lord, wilt mark iniquities: Lord, who shall stand it.  For with thee there is merciful forgiveness: and by reason of thy law, I have waited for thee, O Lord. My soul hath relied on his word.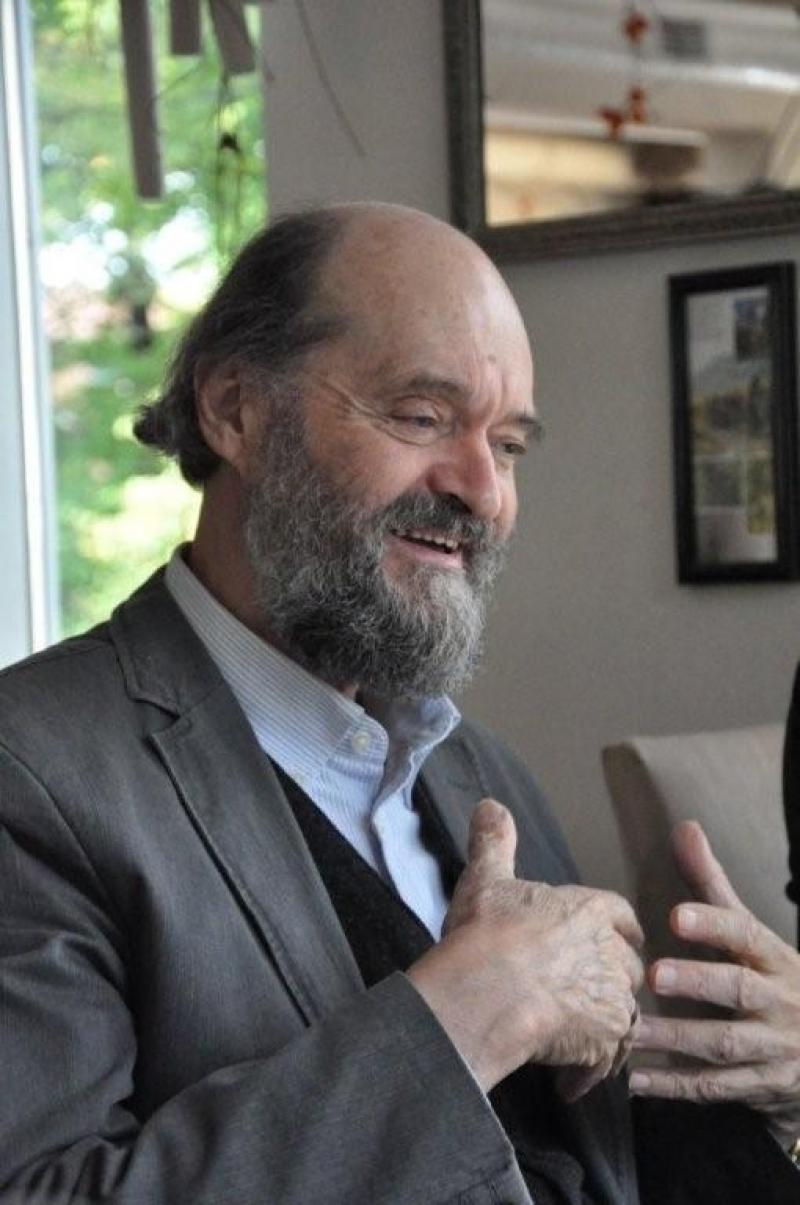 Arvo Pärt: one of a select few who make their living solely through composition
My first encounter with Arvo Pärt's music is indelibly etched on my consciousness. My piano teacher – the late Susan Bradshaw – placed a piece in front of me which, from a visual point of view alone, was immediately intriguing. Consisting of just two pages, what was most striking about the music was its utter simplicity: there was no time signature; no changes of tempo, key or dynamics; no textural variation. Playing through this quiet piano miniature I was dumbstruck by its crystalline beauty. The piece was Pärt's Für Alina. I was hooked.
This was 25 years ago when I was an  undergraduate at Goldsmiths, University of London. Pärt at that time was virtually unknown in the West. Since then, he has become one of the most widely performed, recorded and fêted contemporary composers, one of a select few who make their living solely through composition.
The difficulty that Simon Broughton faced when trying to get Pärt to talk about his music on camera chimes entirely with my own experience when I came to write my PhD on the composer. I had the good fortune of meeting Pärt several times during my research, including the slightly terrifying experience of giving a paper on his Credo in the composer's presence at the Royal Academy of Music. One particularly memorable afternoon was spent with Arvo and his wife, Nora, at the Orthodox Monastery of St John the Baptist in Tolleshunt Knights, Essex (the Pärts owned a property a short drive away). While Pärt was perfectly happy to answer my questions about his work list, which pieces had been withdrawn for revision, and so on, he responded to questions about his music by giving me Archimandrite Sophrony's weighty hardback tome, Saint Silouan the Athonite. "If you want to understand my music," he told me, "read this." The music, you inferred, must speak for itself.
Born on 11 September 1935 in Paide, Estonia, Pärt studied composition at the Tallinn Conservatory under the influential teacher Heino Eller. Although best known for the works he has composed since the unveiling of the "tintinnabuli" style, announced in 1976 by Für Alina, Pärt had already become something of an enfant terrible in Soviet musical circles during the 1960s. The darkly expressive orchestral piece Nekrolog (1960),  Pärt's first mature work, caused a scandal by being the first Estonian work to employ serialism, incurring the wrath of no less a person than the all-powerful head of the Soviet Composers' Union, Tikhon Khrennikov. Not a man to be trifled with.
Using other avant-garde techniques such as pointillism and aleatoricism, Pärt wrote further experimental works including Perpetuum Mobile (1963), Symphony No 1 (1964), Diagrams (1964) and Musica Sillabica (1964) in which extremes of dynamics and texture at times reach cumulative points of such intensity that the music seems to be on the verge of complete collapse.
Becoming dissatisfied with serial technique, Pärt searched for another means of furthering his musical development, resulting in his use of "borrowed" tonal gestures and the adoption of baroque and classical forms, such as the comic finality of the musical catch phrase which brings Quintettino (1964) to an ambivalent conclusion; the grotesque distortion of Bach's Sarabande from English Suite No 6 in the central movement of Collage on B-A-C-H (1964); and the ironic cadenza and grandiloquent tonal conclusion of the cello concerto Pro et Contra (1966).
The remarkable Credo (1968), which represented both the culmination of his early style and the first work in which he set a religious text, is a pivotal work in Pärt's output. Scored for piano, chorus and orchestra, the two outer sections are based on a pristine C major tonality –  specifically the C major Prelude from Book I of Bach's Well-Tempered Clavier – while the central triptych journeys into chaos and a wild, improvised climax. An exhilarating cri de coeur of a piece, the composer's musical affirmation of faith ("Credo in Jesum Christum") ensured that the work was banned in the Soviet Union following its first performance.
Following Credo, Pärt reached a creative impasse and underwent a dramatic reorientation of style. The impulse for this change was twofold, springing on the one hand from an inner musical necessity brought about by his encounter with plainchant and other early music, and on the other by his gradual religious awakening (originally Lutheran, Pärt converted to the Russian Orthodox Church). Rather than appropriate the stylistic conventions of past composers, his compositional concerns now became directed towards a very specific goal: the setting of religious texts. It was no longer enough to simply import tonality by wearing a Bachian stylistic mask as he had done in Credo.
The surprising richness of the work's closingGratiarum Actio is one of the most transcendent passages of 20th-century sacred music
While the techniques and processes of early music have proved to be a continuing source of fascination and inspiration for many contemporary composers – Louis Andriessen, Peter Maxwell Davies and Steve Reich all readily spring to mind – no other composer has made such a profound study of this music, and with such fruitful results, as Pärt. Aside from the importance of specific models from early music, Pärt's in-depth exploration compelled him to rebuild his musical language from scratch. Anything that had no properly audible, as opposed to merely textural, purpose no longer had a place in his work.
Tabula Rasa. Cartoon portrait by Heinz Valg (1978) 

To uncover what he considered to be the startling power of unadorned melody, Pärt wrote reams of technical exercises using just a single line of music. Apart from its innate inner strength, what impressed the composer most about plainchant was its cohesiveness, its clarity and its flexibility. From working with just a single line of music, Pärt then began to investigate the potential of using two voices, before intuitively discovering the simple two-part unit that was to become the basis of the tintinnabuli style: a generally step-wise melodic line accompanied by a triadic or "tintinnabuli" harmony (tintinnabulum literally means "small bell"). Subtly varied from work to work – the composer determining the rules of the game for each piece – the tintinnabuli style has proved extremely flexible.
An outpouring of works followed in 1977 – something of anannus mirabilis for Pärt – including three of the most enduring works of the new style: the seemingly endless melodic descents of Cantus in memoriam Benjamin Britten; the punctilious melodic elaborations of the double violin concertoTabula Rasa; and the startling gesturelessness of Fratres.
The most perfect realisation of the tintinnabuli style came with the St John Passion (1977-82). Wishing to act merely as a vessel for the music, Pärt decided from the very beginning that the Passion text would yield the entire substance of the work. Setting the text syllabically throughout, every single phrase structure, note value and caesura between phrases is governed entirely by the punctuation of the text. The result is a work of profound restraint, at once both detached and deeply affecting. The surprising richness of the work's closing Gratiarum Actio – a final offering of praise and thanks which is heard in its entirety in the forthcoming episode ofSacred Music – is one of the most transcendent passages of 20th-century sacred music.
From the troubled angst of Credo to the celestial atemporality of the St John Passion, Pärt's has been one of contemporary music's most fascinating journeys
Pärt has remarked that it is the nature of the language being set that predetermines to a remarkable degree the specific character of each vocal piece. From working predominantly with Latin texts, his many commissions have seen him setting Italian in Dopo la vittoria (1996), Spanish in the psalm setting Como cierva sedienta (1998), and numerous settings in English. The latter include the stylised invocations and responses of Litany (1994), a return to St John's Gospel for I Am the True Vine (1996), and The Deer's Cry (2007), a setting in English of St Patrick's Breastplate ("Christ with me, Christ before me, Christ behind me…"). Of especial significance is Pärt's setting of Church Slavonic, a language used exclusively in ecclesiastical texts, in the imposing Kanon Pokajanen (1997). As evidenced by the extract of the piece heard in Sacred Music, its sound-world appears to place it within the illustrious tradition of Russian Orthodox Church music. What all of these works vividly illustrate is the way in which the tintinnabuli style can absorb new textural and harmonic approaches.
From the troubled angst of Credo to the celestial atemporality of the St John Passion, Pärt's has been one of contemporary music's most fascinating journeys.
Three essential recordings
Pärt's music has been incredibly well served on disc, notably by ECM New Series, to the extent that his ever-increasing discography has become difficult to keep up with. The following three recordings, however, are essential.
Tabula Rasa (ECM New Series)
Three purely instrumental classics of the tintinnabuli style: Fratres, Cantus in memoriam Benjamin Britten and Tabula Rasa. Find on Amazon
Passio (ECM New Series)
Pärt's austere masterpiece, conducted by one of his foremost interpreters, Paul Hillier. Find on Amazon
Kanon Pokajanen (ECM New Series)
A stunning performance of the Canon of Repentance by the Estonian Philharmonic Chamber Choir. Find on Amazon
The third episode of Sacred Music – "Górecki and Pärt" – is broadcast on Friday 26 March at 7.30pm on BBC Four.
Watch episodes one and two on BBC iPlayer
Watch Björk interview Pärt on YouTube
Farewell to the Highlands, farewell to the North
This Country your Valour, this Country is yours
Farewell to the mountains high cover'd with snow;
Farewell to the straths and green valleys below;
My heart's in the Highlands, my heart is not here,
My heart's in the Highlands a-chasing the deer -
A-chasing the wild deer, and following the roe;
My heart's in the Highlands, wherever I go.
Farewell to the Forrests and wild-hanging woods;
Farwell to the torrents and loud-pouring floods.
Wherever I wander, wherever I rove,
The hills of the Highlands for ever I love.
My heart's in the Highlands, my heart is not here,
My heart's in the Highlands a-chasing the deer
Chasing the wild deer, and following the roe;
My heart's in the Highlands, wherever I go.